An excerpt from the article soon-to-be-posted in full on this page
(click HERE and HERE AS WELL for whole gallery of photos)
29 April - 2nd May 2004
In fact this was the first ever non-academic festival of the Goddess to take place in an Eastern European country, and as such exciting and important. My friend Hana Evans, a young Czech woman living in the UK, took the initiative and did a large part of the organizing for it through friends, both in her homeland and in Britain, through internet etc...
I first met Hana years ago while I was doing a slideshow in Cornwall and she was then involved in tantric teachings and practices. She spoke of how she would like to bring me to the Czech lands to exhibit my paintings there and take me to some extremely ancient paleolithic sites. We couldn't however see any way of bringing this about but now, years later, it happened.
In the meantime Hana has done the Priestess of Avalon training in Glastonbury, lead by Kathy Jones who together with Tyna Redpath organizes the Goddess Conference there. Several people involved in Glastonbury Goddess temple and the Priestess training, such as Hazel Loveridge and Brian Charles - a male priest serving the Goddess, came to the Festival to give Hana support and to pass on Goddess lore and ritual. This has also been my role and the reason why Hana wanted me there. She had also contacted Z. Budapest who was at the time in Hungary having hip replacements but she was post-operative and unable to travel. A lot of what we had to offer is fairly new in Eastern Europe, as it is in Russia, but people want to know.
My friend Anna Willoughby, from our Women's spirituality and politics group in Bristol, decided to come with me to help and support me. Anna's 18 months old baby Elfed travelled on her back as he was still breastfeeding.
We flew from Bristol to Prague on the 27th of April. As I am more or less wheelchair bound now because of secondary cancer in my spine and bones, I needed help. I was also pretty exhausted after having had a major retrospective exhibition in Bath and then a joint exhibition with Margarita Izotova and Susan Morland in Bristol, a continuation of our show "Windows to other worlds". On top of it all I had broken a bone in my wrist and the plaster was taken off the day before leaving Bristol!
We were met at the airport in Prague by Silvie and taken to visit the National historical museum (Narodni muzeum). There is a magnificent display of prehistoric artifacts there, including Goddess statuettes from the Paleolithic as well as the Neolithic. Beautiful pots made by women formed with nipples and/or eyes of the Goddess.
Cleansing by the elements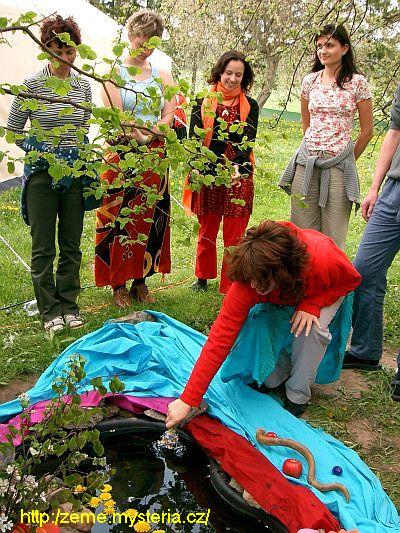 We were then driven 80 km north of Prague to the Bohemian village Skalka u Doks where the Goddess Festival was to be held in an old farm building with converted barns. This belongs to Helena Unmani and her partner. She is together with Hana the main visionary behind the Festival. Helena is setting up a centre here for alternative courses and personal development workshops. The Goddess Festival is planned to be a yearly event and Helena does some teaching herself and so she has invested in a stage as well as a large marquee. She has come to the Goddess as a devotee of Osho (Rajneesh) and through tantric teachings popular in the Czech Republic. In fact some of the participants at the Festival, both women and men, came via these routes as well as what can be called New Age therapies.
This felt strange to me and Anna are from the women only Dianic craft scene. We are also anarchafeminists and political activists on Earth's behalf. Tantra, which originated in an ancient Goddess centred matrifocal India of the Indus valley culture, created by dark African descended people, has over time became to a degree corrupted by men seeking to enhance their own pleasure. However this may be... John Hawken, Hana's former partner, has been teaching tantric and shamanic paths over the years in the Czech Republic and a number of his followers took part in this Festival.
From the main ritual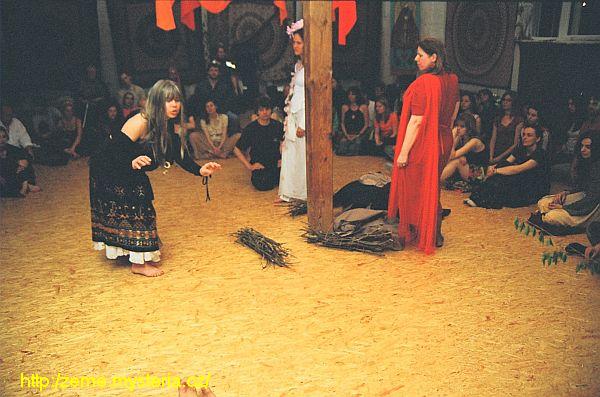 There was an exhibition in the great meditation hall in the barn of 20 of my smaller images, carried here on the plane, as well as 20 of Lydia Ruyle's beautifull banners. Not so long ago these images of mine were shown first at the next to last International Goddess Conference in California and then in St. Petersburg. Exciting and wonderful.
I want to thank Helena Unmani here for her genuine kindness, great generosity and hospitality and willingness to take a gamble.
The first day after we arrived and before the Festival started, I found myself painting Goddess images on a large cloth to be hung at the gate of the farmhouse. During a whole year of illness and low energies I had felt no inclination to do any creative work except for some writing, so this felt like a miracle and significant. I also helped Hana drawing images on large bones of a wild boar to be used in her opening ritual the next day. We were spending most time outside in the fine weather surrounded by the beautiful land and its breast shaped mountains.
Bezdez - the local sacred mountain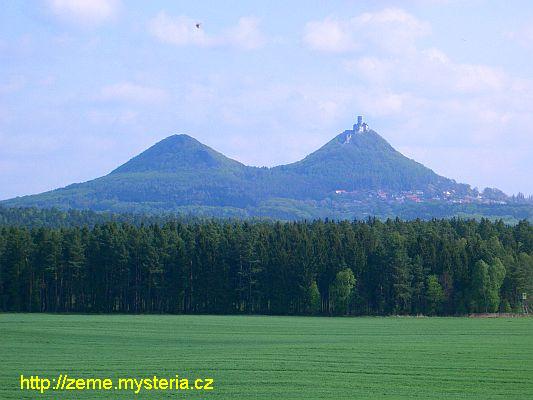 Hana called the opening ritual "La Loba - Awakening of the wild woman" and in it she transformed into the Bone Mother. (Considering I have a bone cancer this is quite uncanny for me). She was amazing and coming into her powers as a priestess of the Goddess. She had been nervous and even fearful bringing this Festival to her homeland as noone knew how it would be received, who and how many would turn up for it, and even what would happen, also on a magical level, as a result of it.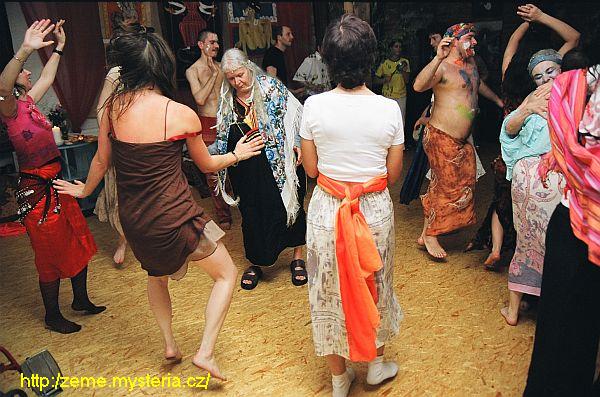 Monica Sjoo dancing for the first time in a year!
If you would like any more information about this festival or about
the Goddess Festival 05 in the Czech Republic,
contant Hana Evans on

This page is under construction,
please, come soon for more